All the software on this site has been made by us
This software is donationware and can be used on any computer (home, work, school).
If you want to help us and support the development of this application, you can register it by donating!

System requirements: Windows XP / Vista / 7 / 8 / 10 (32 & 64 bit) - .NET Framework 3.5 / 4.5
Free Message Encrypter v0.1




License type: freeware
.NET Framework: 2.0

Are you worried about privacy? Do you know that GMail, Facebook and others online services, automatically reads and scan your messages for advertising purpose?

Do you need a simple software to encrypt and protect them?

Free Message Encrypter is for you!

Our software automatically replace your message with an encrypted one! How this works?

Just add the word ENC: in top of your message! Example:

ENC:hey John, how are you?

then select it and press CTRL-C. The message will be automatically encrypted!

And to decrypt a message? Just select it and press CTRL-C!

What's new in 0.1:
- first release!



Software screenshots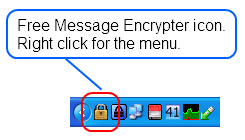 (C) 2011 / 2019 My Portable Software - All rights reserved
Site revision v1.80